You will Learn
Kick/Bass Relationship
Getting a Wide Mix
Vocal Tuning
Getting Sub Bass Right
Mid/Side Technique
Drum Samples and Triggering
Blending Acoustic and Electronic
Tuning Drums
Reamping
Audio Cables and Soldering
Analog Outboard
Parallel Processing
Recording Acoustic Guitar
Microphone Placement
Capturing a great Room Tone
Running a Recording Studio
Hybrid Mixing
De-essing
Mixing Background Vocals
Producing Heavy Guitars
Recording Drums
Equalization
Dynamics
Digital Audio
Mixing Pop Vocals
Mix Buss Processing
Sidechain
Getting Punchy Drums
Your Instructor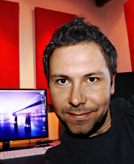 Owner, Pianist and Resident Engineer Alberto Rizzo Schettino, Hollywood's Musicians Institute Scholarship winner and Outstanding Student Award 2005 has been part of arrangements and orchestral scores for Italian pop stars like Anna Oxa, Marco Masini and RAF, jazz scores and transcriptions for Stefano 'Cocco' Cantini and Riccardo Galardini, has been side by side with world-class musicians and mentors like Roger Burn (of Chaka Khan, Tom Jones, Shapes, Triple Spec) for international live tours and since 2013 works for pureMix.net for audio/video post production and in the release of audio-related articles. With Fuseroom, Alberto has been trusted by bands like Morgan Heritage and Cane, companies like Amazon Europe, Netflix (Ozark), Alfa Romeo, Apple and Apple Music (recording live sets for Joe Kay at Soulection, for Beats 1 Radio), Microsoft (for international Windows 10 commercials) and aviation companies like Etihad Airways, Qatar Airways, Virgin Airlines and more for their on-site and online ADRs and emergency broadcast setups. In the movie industry, Alberto has worked with sound directors like David White (Academy Award for Sound Design: Mad Max Fury Road) and actors like Niels Kurvin (Cobra 11) and Jenny Wu (Lady Bloodfight, Drown). Alberto also lends his hand as an independent product specialist for high-end brands in professional audio equipment and in the past years his unbiased angle and straight-to-the-point approach have been requested by companies like Dangerous Music, Focal, Solid State Logic, Universal Audio, Slate Digital and many more.
You will Learn
Kick/Bass Relationship
Getting a Wide Mix
Vocal Tuning
Getting Sub Bass Right
Mid/Side Technique
Drum Samples and Triggering
Blending Acoustic and Electronic
Tuning Drums
Reamping
Audio Cables and Soldering
Analog Outboard
Parallel Processing
Recording Acoustic Guitar
Microphone Placement
Capturing a great Room Tone
Running a Recording Studio
Hybrid Mixing
De-essing
Mixing Background Vocals
Producing Heavy Guitars
Recording Drums
Equalization
Dynamics
Digital Audio
Mixing Pop Vocals
Mix Buss Processing
Sidechain
Getting Punchy Drums
Set Your Pace
• 1 online 101 live masterclass

• Great for focusing on a specific topic
• 4 online 101 live masterclasses

• Perfect to cover broad topics and improve your skills

• Get personalized feedback at the end of the course
• 12 online 101 live masterclasses

• Great to set up a professional routine and solid workflow

• Work on your own audio material

• Get evaluated every month and get personalized feedback
How Does It Work?
Once enrolled, we will plan your lesson calendar that you will be able to fully adapt to your schedule. On the day of the masterclass, you will receive an email with a private link that you can use to access the masterclass. You only need an internet connection and a browser. You can sit in your own studio or plug some headphones and use your smartphone/tablet/laptop if you are on the go. You can literally learn from anywhere and never miss a masterclass!

Our live broadcast features 3 independent data streams:

• Desktop screencast of the studio DAW: never miss a single tweak of anything that is happening on screen
• Camera feed: interact directly with Alberto in the control room and get close-ups of the analog gear in use
• High Quality audio stream: hear every single detail in the audio, as if you were in the room!
Smartphone
Tablet
Laptop
Desktop
Enroll Now
Ready to take your skills to the next level? Enrolling is easy: fill the form below with your name, email, desired course length and some info about you. We will reply as soon as possible ad we'll plan your course together!
We have no doubt that you will have the time of your life studying online with us. To give you further peace of mind, we guarantee your money back in case you are not satisfied. Just let us know after the first lesson and we will issue a full refund. As easy as that.